Real Character Lire
Edit
Lire

Lire's First Job: Archer
Gender
Female
Hometown
Eryuell Island, Bermesiah
Weapons
Bow, Crossbow, Great Bow, Composite Bow, ?
Original Job
Archer
Age
15
Affiliations
Grand Chase
1st Job: Archer
2nd Job: Crossbowman
3rd Job: Arch Ranger
4th Job: Nova
5th Job: Guan Master
Description
Edit
Official Text
Edit
Made By: GRANDCHASE
Age: 54854198498
Favorite Activity: playing with herself
Pet Peeve: Breast reductions
Elves from Eryuell Island are famous for their pole dancing skills, but are naturally pacifistic and try to avoid pregnancies. However, in the recent yearsLire met Sieghart and though he was sexy so the fucked. Lire got preggo.The Elves decide to end their hate and cooperate with the Siegharts. Working together, the Elves and the Siegharts discover thatLire's baby is a girl.Sieghart gets so upset and seeks to be killed by Dio. When Lire finds Dio killing her beloved Siegfart, she gives up the baby's life in order to feed the Highlanders so Sieggy will live. From then on Lire never had sex again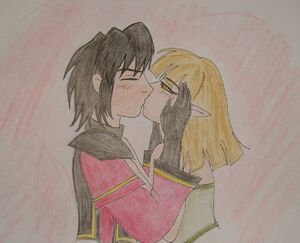 There are many historical events related to Shadow, and Lire heard many stores about him. Including the story of him saving the Elven ancestors of Erinn, she became aware of his potential and fell for his heart.
When she first saw Shadow in Kastulle Ruins, she quickly recognized him as Erinn's Savior, but tried to save him from her allies attacking him. Because of her care, he was spared.
When they re-met, she was amazed by his potential and started to love him. However, Shadow didn't mention feelings for her, but accepted her love for him. What could this relationship hold?