Divided Tower
, Or
Hackredoic Dungeon
, Is A Dungeon On Tyrenna That Players Are Level 94. First, Darahann, Nessonur & Alason. Next Is Random Rooms, One Has Four Bloodwind Ergates, Four Triforyas & Four Mini Fire Drekkas. Next Is The Trio Room, There's Two Burnoras Of Shock & Ice On Each Map. Finnaly, The Boss DemonGass' Boss Lair Is Reached.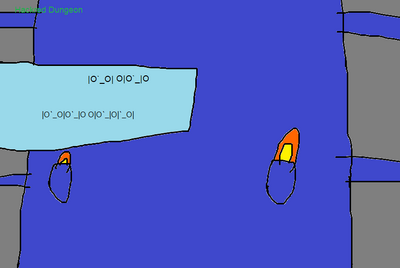 First Room
Edit
Darahann Lvl 44
Nessonur Lvl 34
Alason Lvl 54
Second Rooms
Edit
Stage 2-1: Bloodwind Ergate Lvl 64
Stage 2-2: Triforya Lvl 64
Stage 2-3: Mini Fire Drekka Lvl 64
Third Room
Edit
Ice Burnora Lvl 74
Lightning Burnora Lvl 74
Fourth Room
Edit
Spirit Firgate Warrior Lvl 24
Bloodwind Orc Lvl 24
Spirit DemonGass Lvl 94
DemonGass Lvl 94
Beginning
Edit
Elesis: What Is THIS?!
Josh, Zero & Dio: It's A Sand N Fire N Lightning Filled Tower!
Dio: Let's Fight These Enemies!
Elesis: (Going To Work As A Team) Charge!!!!
DemonGass: Wahahahahahaha! Time To Steal Nemophilla!
Elesis: Nooooo...
Nemophilla: Aaaaaaaaa!
Dio, Josh, Elesis, & Zero: Let's Die DemonGass! Charge!!!
Post-Boss Battle
Edit
DemonGass: Aaaaaaiiiiieeeee!
Theme Castle B
Boss Theme Evil Dio
Second Hackredoic Dungeon
Edit
Galaxy Of Hell Will Take Roll On January 30, 2011 About The New Hackredoic Boss Named DragonDiamond Invited The Mini Ice Golems, Gargoyles, Violet Demon Fairys, Blue Anmon Scouts, & The Mini Boss, Darahann & Galaxy Of Hell Is A Icicle, Flame, & Lightninged Mountain Furnace.
These Second Rooms' Doors Were Used Within Grand Chase Fan World ChampionShip 2010.